Blog
4th-market / earthenware pan / receipt
25 May 2016
We found a nice receipt for Donabe cooking from a Japanese news website (http://www.asahi.com/and_w/life/SDI2016050656961.html) receipt by Eiko Oba.
A Donabe pan is suitable for simple grilling and steaming. The result is always good. Enjoy!!
Ingredients: ¼ piece (600 g) of Chinese cabbage / 200g thin sliced pork belly / 2 garlic cloves / 3 tablespoon olive oil / salt, pepper, parsley and ½ lemon for seasoning
Cooking time: 20 minutes
For 2 persons
1. Marinate the pork belly with salt and pepper.
2. Cut a Chinese cabbage in two piece. Slice garlic very thin.
3. Insert pork belly and garlic between cabbages. Tie it with a Butcher's string to keep the shape.
4. Heat olive oil in the pan.
5. Grill the cabbage and pork (step 3) with strong heat until it becomes nicely colored.
6. Cook with cover for 10 minutes over medium heat.
7. Add seasoning: salt, pepper and chopped parsley. Serve with lemon.
4th-market Cocer or Kago Donabe pans are suitable for this receipt. Black, white and mustard yellow are available.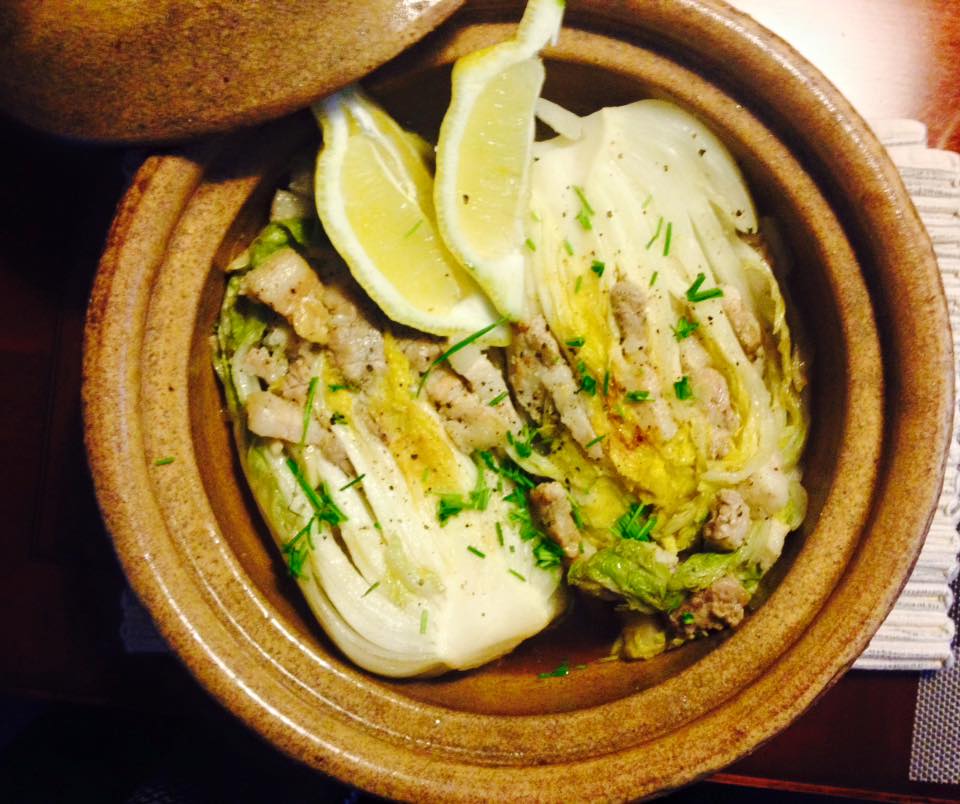 ---
Thank you
11 February 2016
We would like to thank everyone who visited us last week at the MONO Japan event. It was our first time to join such a big event and we hope you enjoyed it. It was very nice meeting and speaking to you all. See you at the next event!
Many thanks to the organizers, Japan culture exchange and Lloyd hotel culture embassy as well. They we're very hospitable to us. We enjoyed the event very much and will certainly join again next year!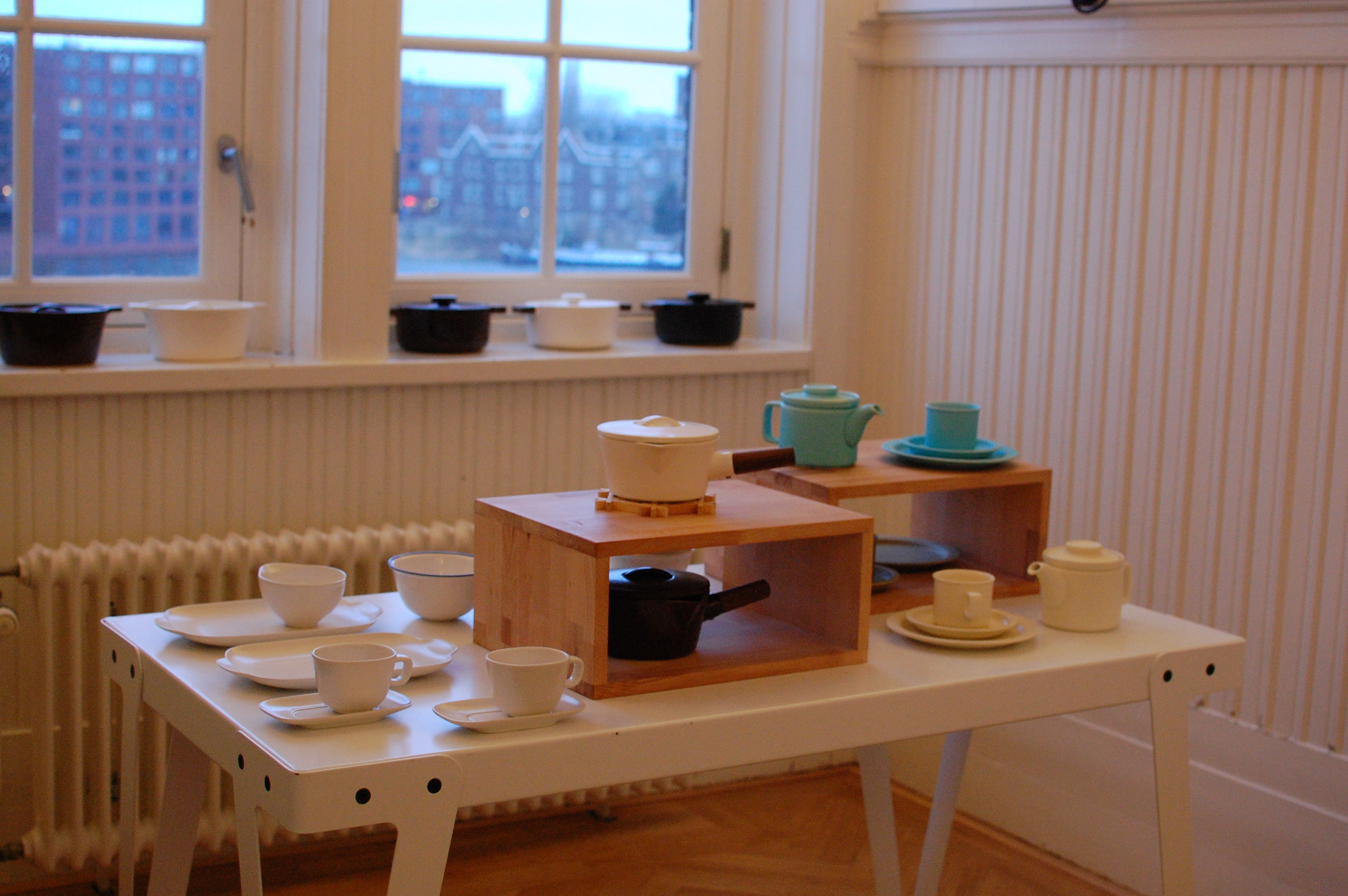 ---
Season's Greeting 
24 December 2015
---
Thank You 
9 December 2015
Thank you for your visit at 3rd Japan Market in Lloyd Hotel Amsterdam in the storm. It was my pleasure to meet people who love craftworks. Many thanks to all customers and those who are interested in our products. 4 (Thu.) ~7 (Sun) February 2016, 4th-market's products are going to be presented to the 1st MONO JAPAN / Cultural Exhibition & Sale Fair of Japanese products at the Lloyds Hotel. I hope to see you again in February 2016 More information about our products for this event.
More information: MONO JAPAN in Lloyd Hotel  https://www.monojapan.nl/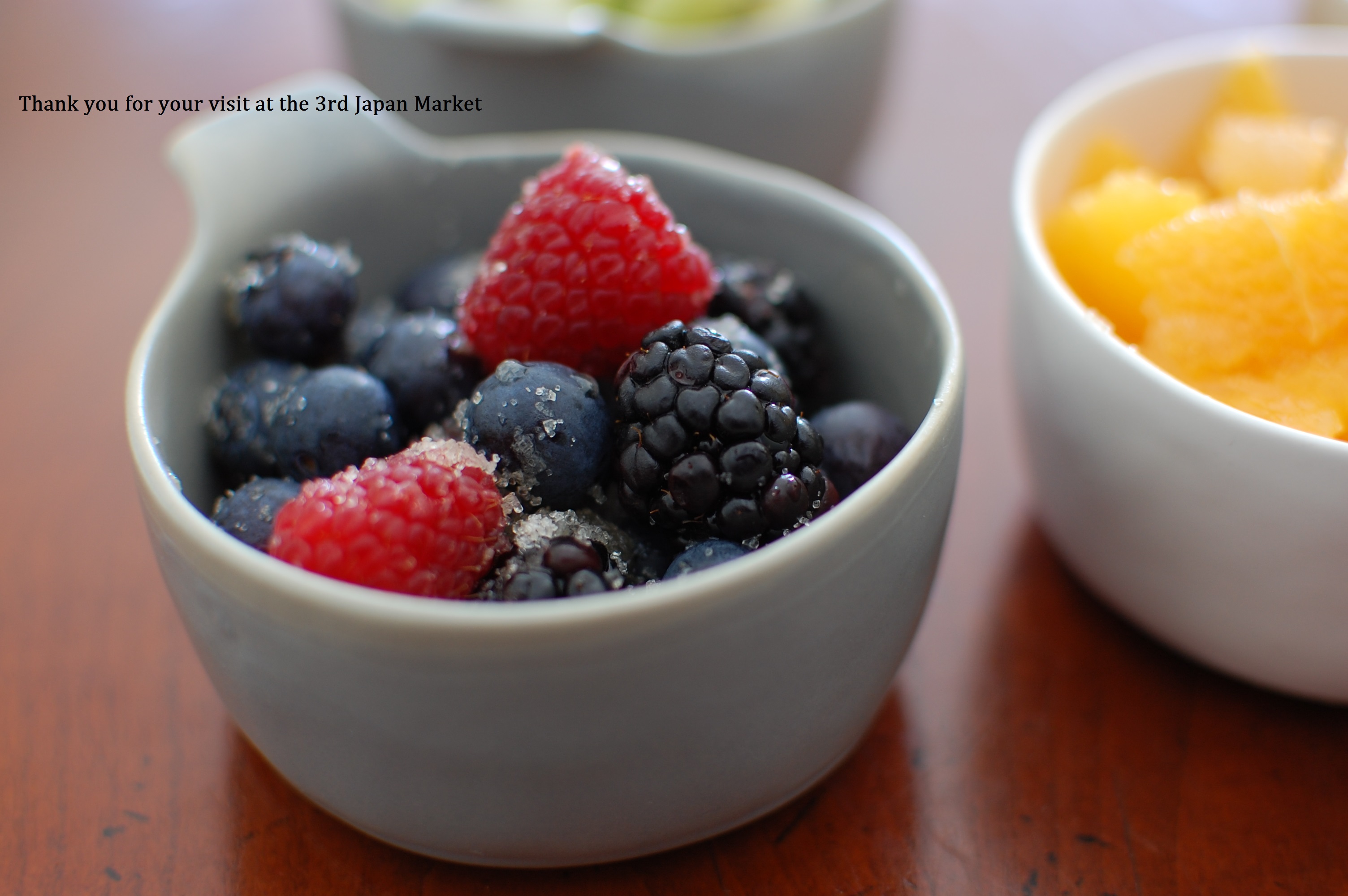 ---
Season's Greeting
5 December 2015
Fijne Sinterklaas!!!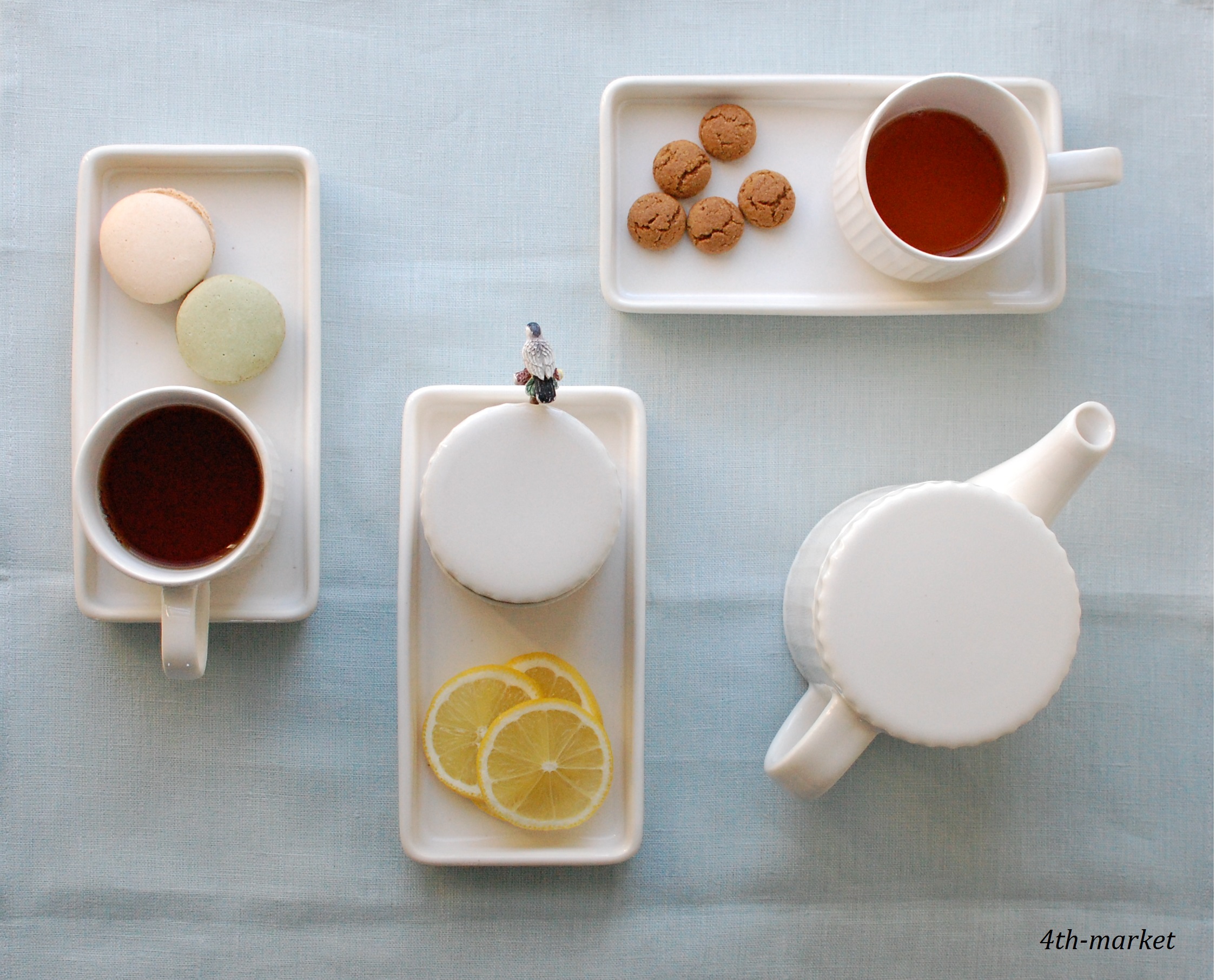 ---
A letter from Japan / Product guide
19 October 2015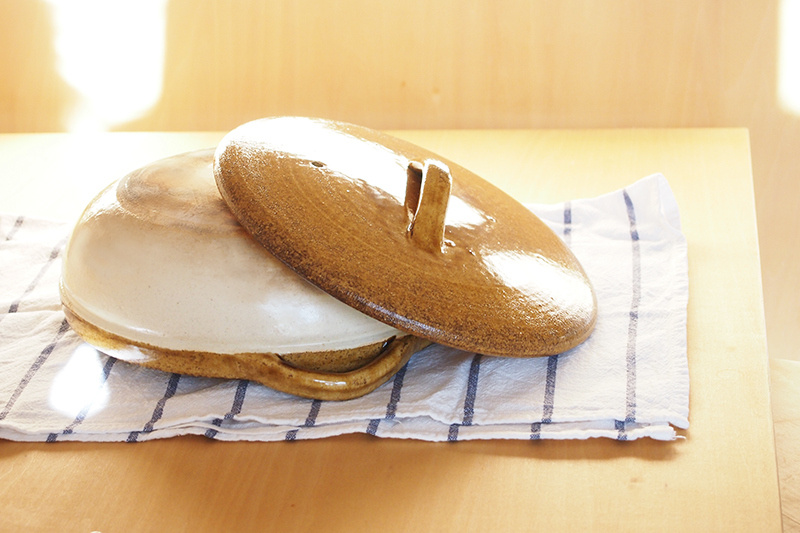 Cold wind and rain, sun light is getting low.
When the cold and dark season starts, we try to make it cozy in the house.
Warm meals and drinks with family and friends like a simple cup of nice and warm soup.
In Japan most people enjoy "Nabemono" (hot pot cooking) in autumn and winter.
4th-market has a beautiful collection of nabe (hot pot).
Nabe is heat proof earthenware made by rough clay. That is why structure of the Nabe has many small holes.
To protect Nabe from moist, stain and dirt, it needs special treatment before first time use. This is called "Medome".
"Medome" is to let the earthenware soak proteins from starch or flour to close all the small holes.
It becomes a natural coating for the earthenware. This extra work helps guarantee a long time usage of your Nabe.
Step 1.                Clean your product with water, and afterwards dry it.
Step 2.                Fill the pan for approx. 80% with water and add 1 or 2 tablespoons of starch or flour.
Step 3.                Heat the pan until the water boils, then turn off the heat and let the water cool down in the pan.
Step 4.                After the pan is fully cooled down, empty it, rinse it with water and then dry it very good and store it in a dry place.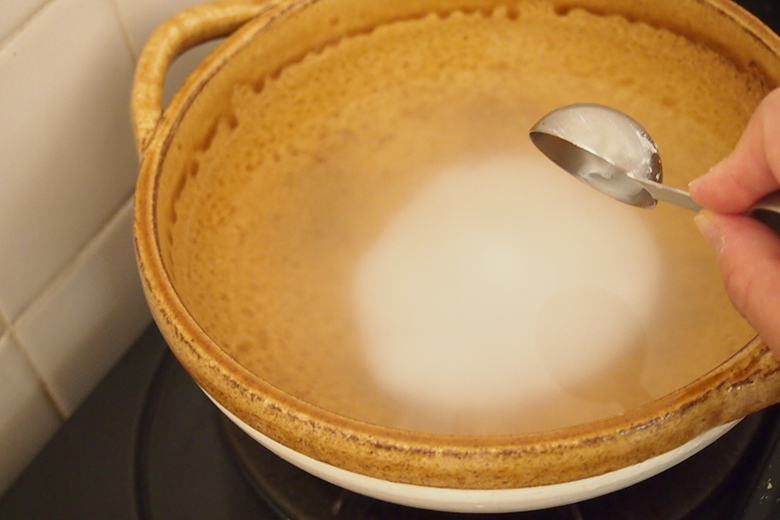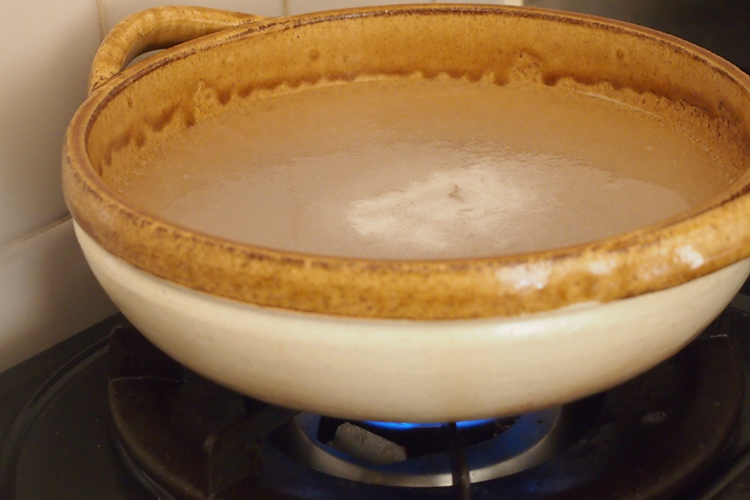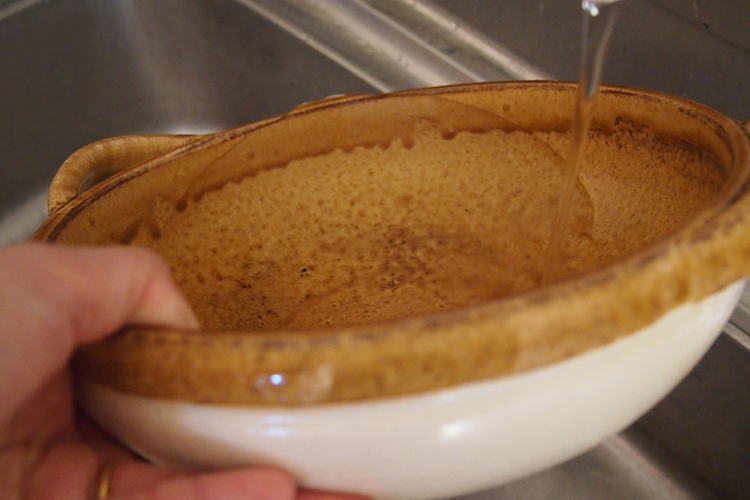 Photos: Cacerola earthenware pan (nabe) available in two colors (white & brown, white & yellow) at the shop "neëst" in France. http://www.neest.fr
---
Product guide
09 September 2015
Soup makes us always happy and keeps us healthy.
Broccoli and soya milk soup with coriander, almond, chilli and coconuts cream!!
Served in "Pera Cotta" heatproof earthenware pan and "Piel" soup dish.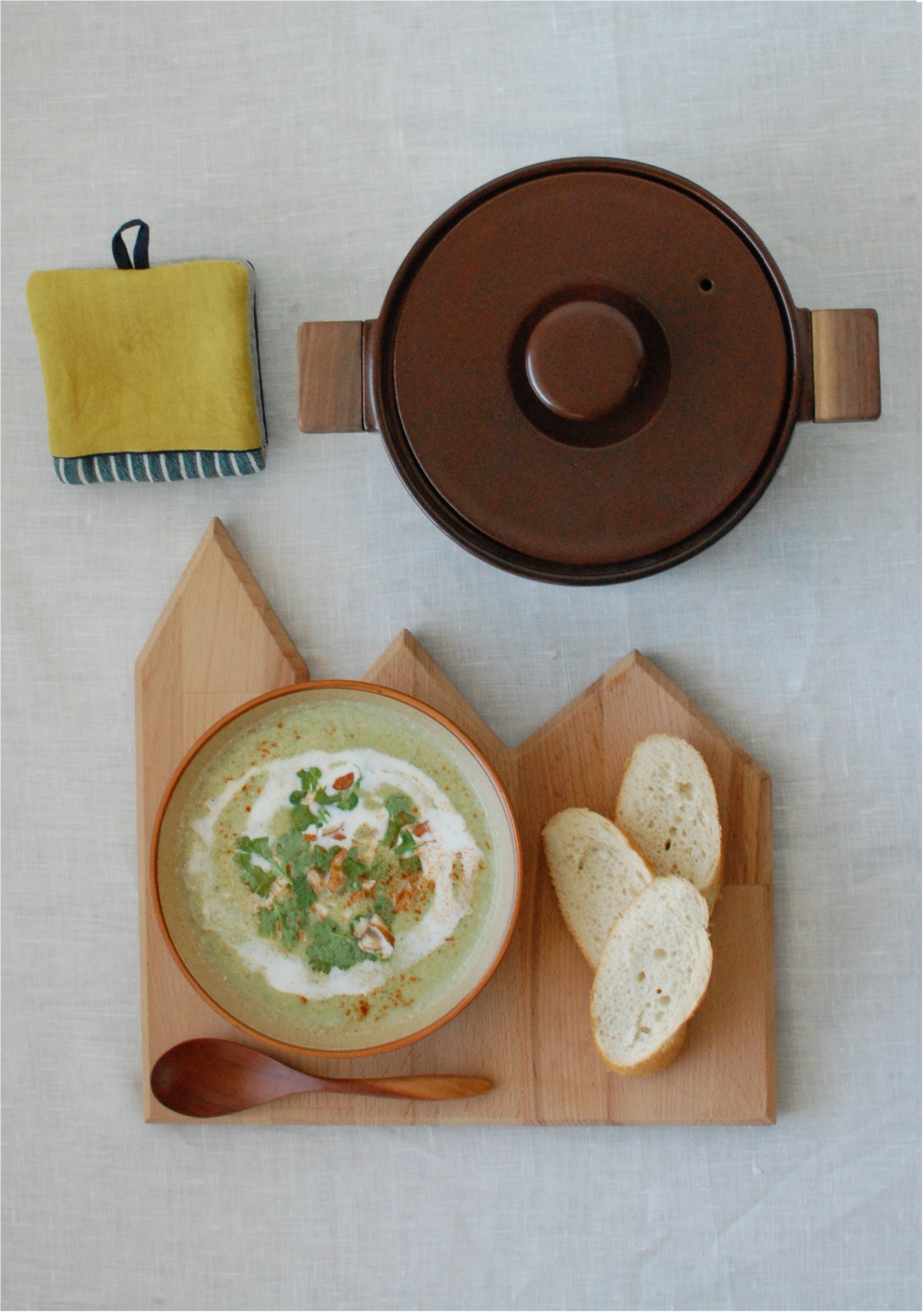 "Pera Cotta"   heatproof earthenware pan available in three colors (black/white/red brown) at our web shop or  the shop "Tas-ka" in the Netherlands. http://www.tas-ka.nl/
---
Product guide
09 February 2015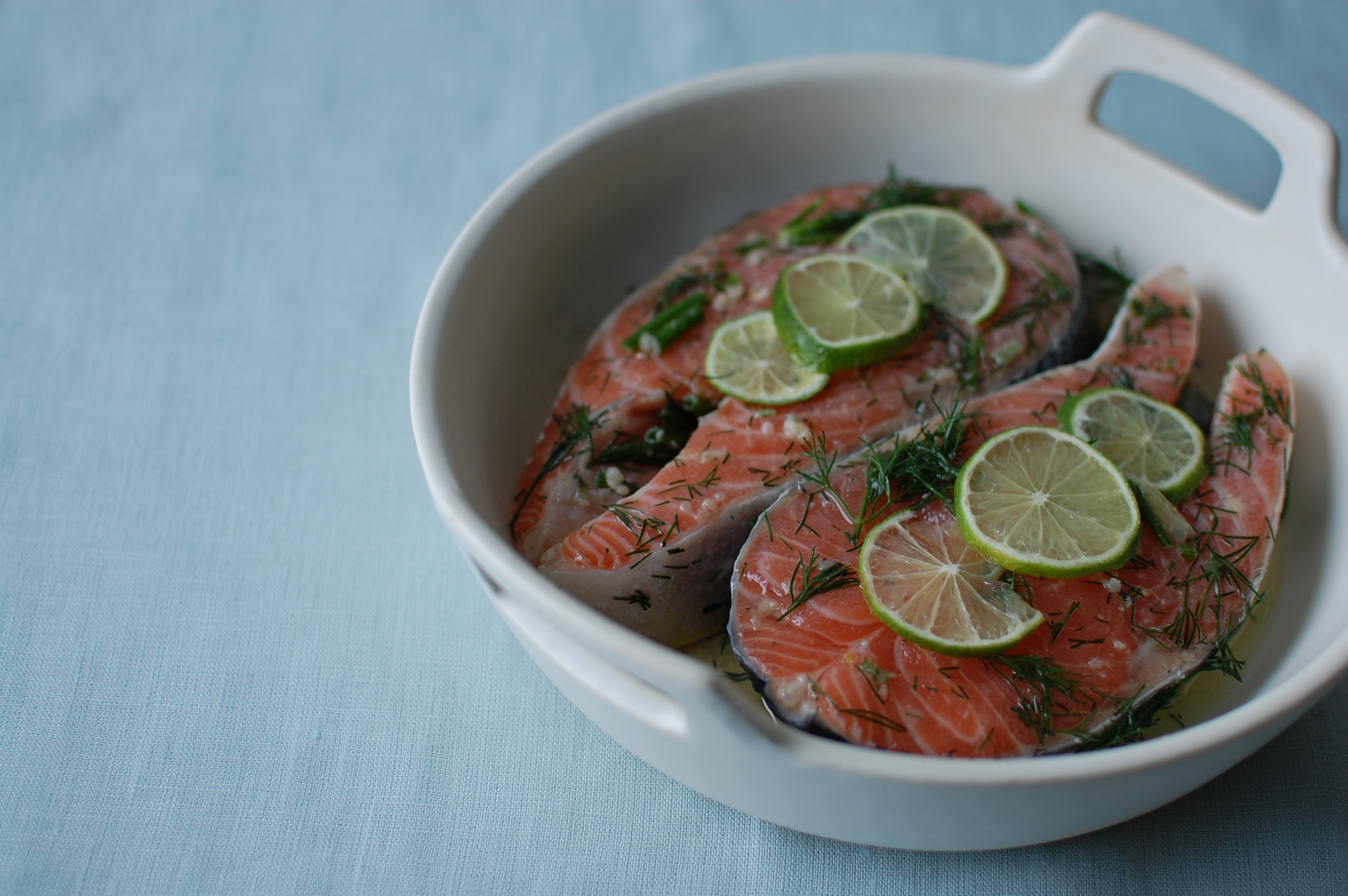 Tip for a simple dish on busy weekdays.
The Roti series heatproof earthenware pan is suitable for simple baking and grilling.
The heat through the earthenware pan keeps the food juicy and tender.
Bake marinated salmon (with dill, garlic, lemon juice, olive oil and salt.) in the oiled pan over strong heat for about 5 minutes. Adjust flavor by adding freshly grinded salt and paper, ready to eat.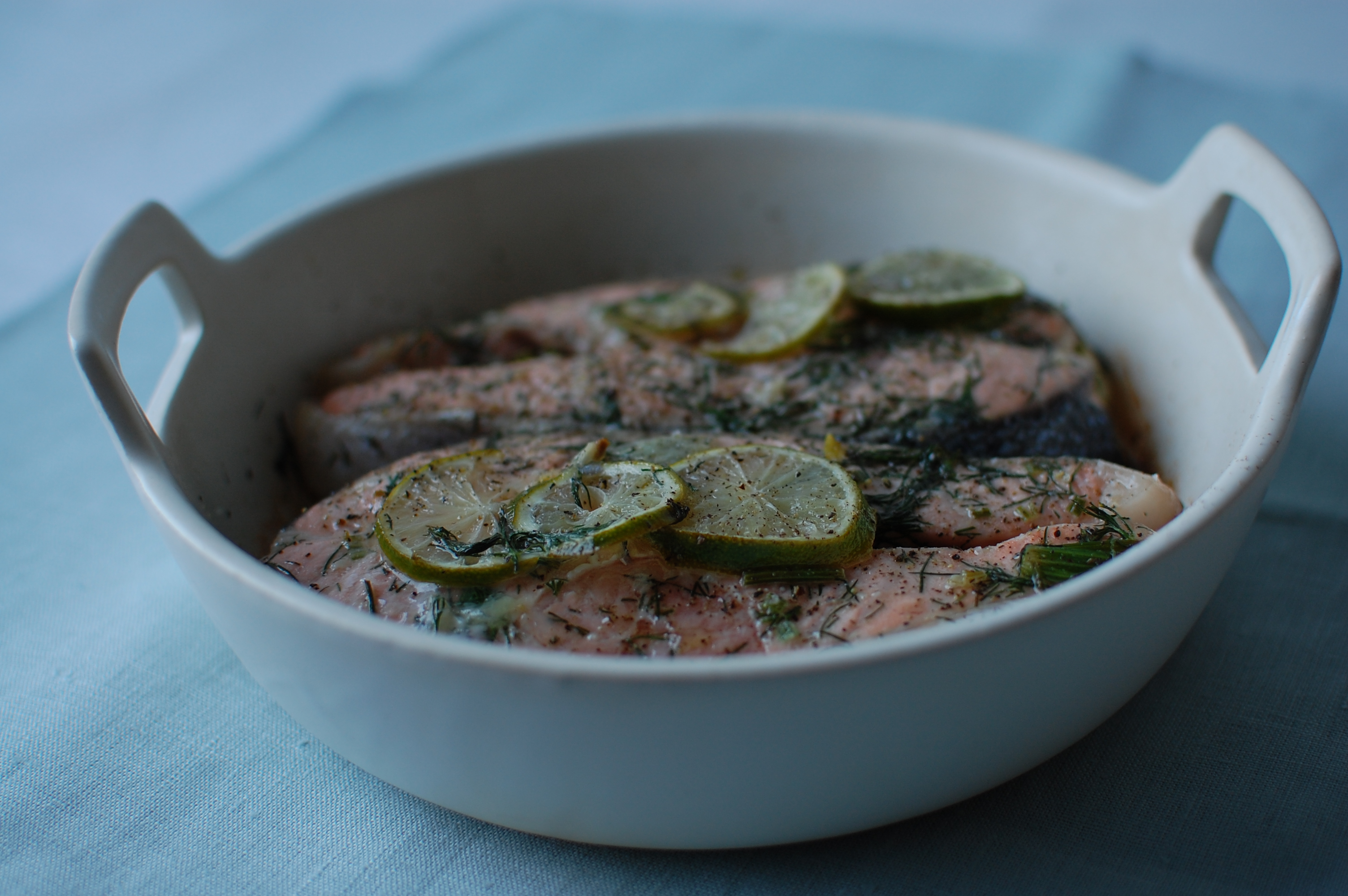 Photos: Roti grill casserole available in three colors (black/white/red brown) at the shop "Tas-ka" in the Netherlands. http://www.tas-ka.nl/
---
A letter from Japan / Product guide
5 February 2015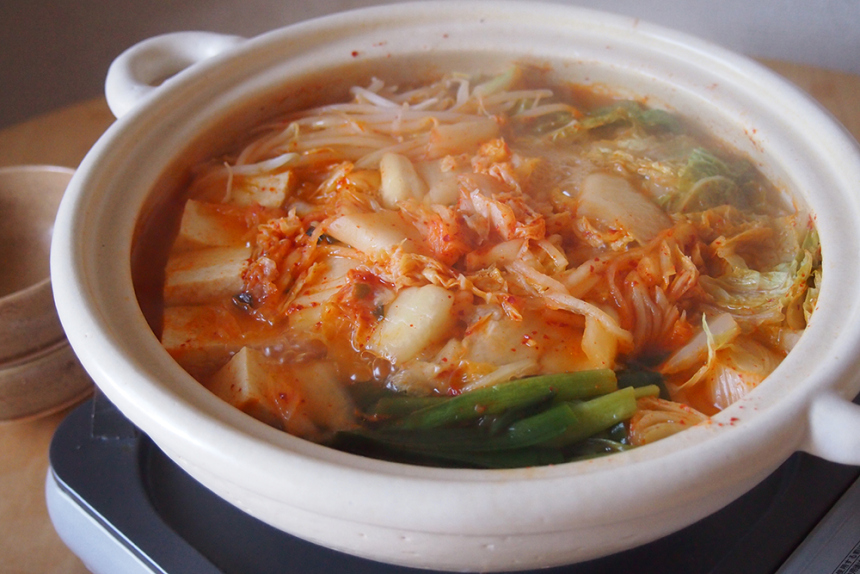 It's the coldest season of the year again.
During this cold season Nabemono (or nabe) is one Japan's favorite home cooking.
Have you ever heard of "nabemono"?
Nabemono is a Japanese hot pot.  Often cooked at the dining table using a portable stove. Very simple, cozy and healthy cooking.
Add seasonable vegetables, for example Chinese cabbage, leaks, carrots, bean sprouts, shitake, tofu and sliced pork or seafood.
Today's photo is a Kimuchi-nabe.  All Ingredients are cooked with Kimuchi (Korean fermented cabbage. Very spicy and tasty).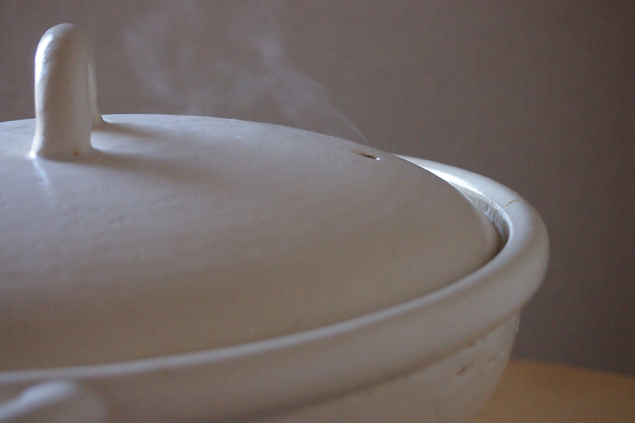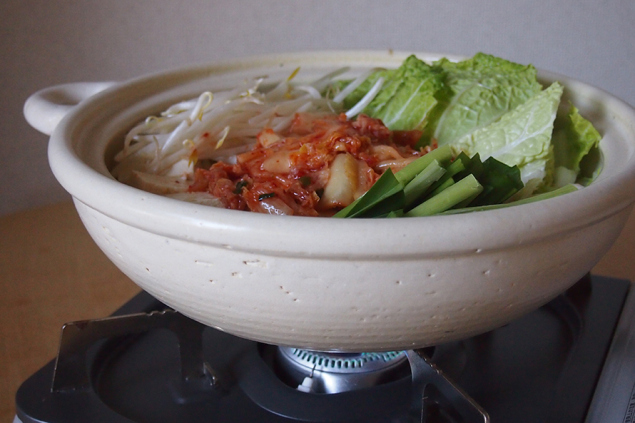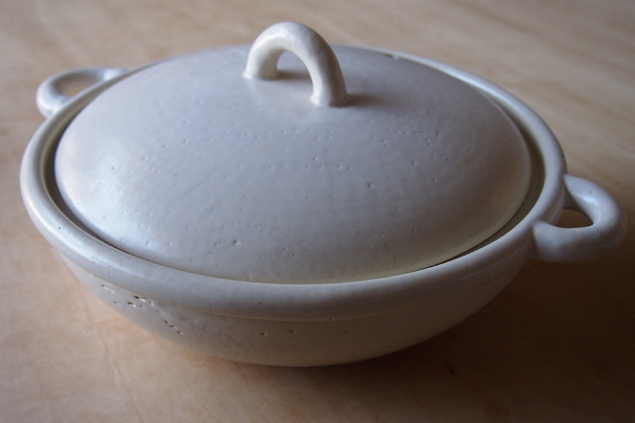 Photos: Cocer Nabe no.9  / 2200 cc / available in three colors (black/white/mustard yellow) and 3 sizes through our online shop.
---
A letter from Japan / Product guide
22 January 2015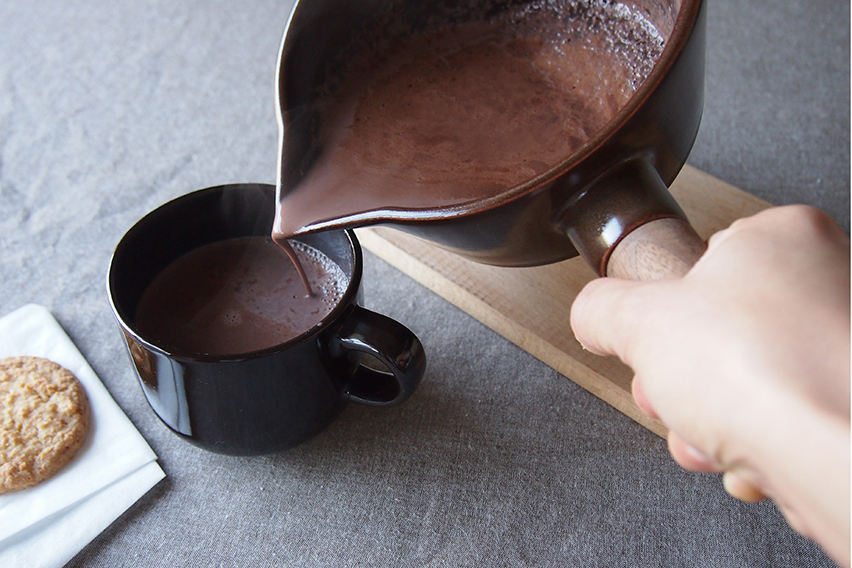 Such happiness to drink a cup of hot chocolate in the winter.
Today's photos are from the "ricotta" milk pan, which is made for this pleasure and is made of fireproof ceramic. It is available in three colors.
Also the "Brocante" mug cup is available in three colors. The black and moss green ones are semi-porcelain products and the grey ones are earthenware products.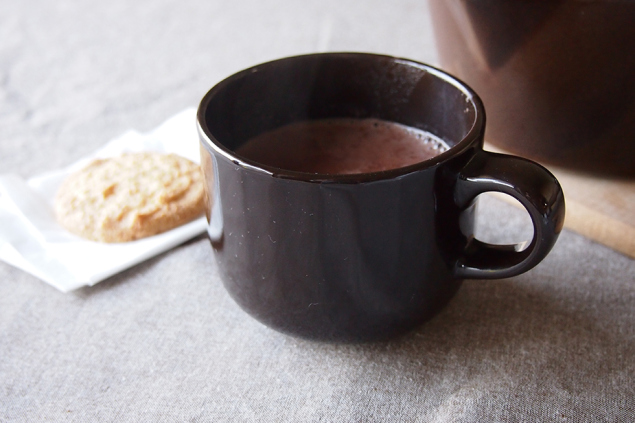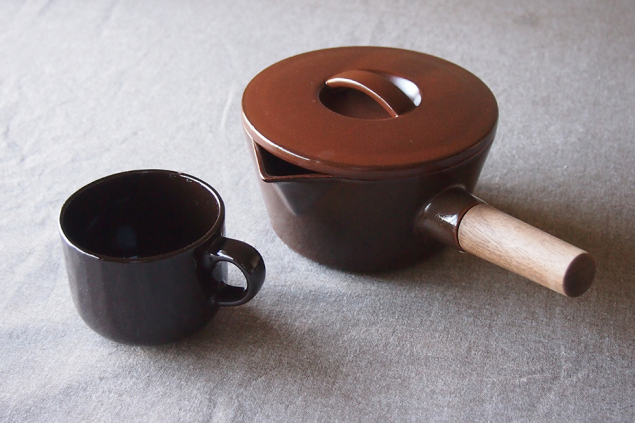 ---
A letter from Japan / Product guide
15 January 2015

The "миска" oven dish series is a typical 4th-market product, dishes suitable for cooking and ofcourse for the table.
Photo: rice cake (mochi), tomato pizza sauce and your favorite topping with cheese on top of it.
Baked in the oven for approx. 10~15min. (till the rice cake becomes soft)


Semi-porcelain oven dishes "
миска
" are available only in Japan.  If you are interested you can order them by sending me a mail.
---
A letter from Japan
7 January 2015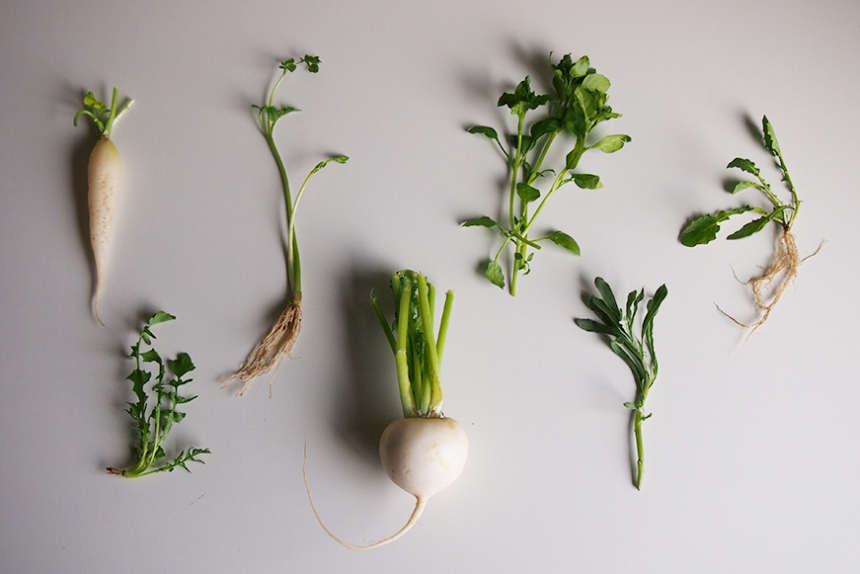 Best wishes for 2015.
A classic Japanese custom, today, January 7th, is to eat "Nanakusa-Gayu" .
"Nanakusa-Gayu" is a rice porridge with seven different kind of spring herbs.
Nice and light food to give your stomach a rest after the festive season
Seven different kinds of spring herbs because seven is lucky number in Japan and the life force of these herbs that grew fresh and green even in the middle of the winter made them to be considered auspicious.
The seven herbs:
Seri / Water dropwort
Nazuna  / Shepherd's Purse
Gogyō   / Cudweed
Hakobera / Chickweed
Hotokenoza / Nipplewort
Suzuna (Kabu) / Turnip
Suzushiro (Daikon) / Radish
(Depending on where you are located, some of the herbs above can be hard to get. In that case try and vary by replacing them with local herbs)
How to cook "Nanakusa-gayu"
Serve: 6 person
Ingredients:
4 cups of water, 8x8 cm square kombu soaked in water 30 minutes
2 ½ cups of cooked riced
Seven herbs cut into small pieces (+/-2 cm)
Sea salt
1.  Make the kombu bouillon:  Then place the saucepan over medium-high heat. As soon as bubbles start to appear, remove the kombu from the water and remove the saucepan from the heat source. Do not let the liquid come to a boil, as the kombu will then give the stock a bitter flavor.
2. Add the rice to the bouillon and cook over low heat, stirring to break up any clumps of rice.
3.  Continue to cook, stirring occasionally, until the grains of rice swell and begin to lose their shape. Adjust taste by adding salt, bring the water to boil again and stir.
4.  Add the herbs. Then remove the pan from the heat and serve immediately.
Heatproof earthenware small pan "Ojiya nabe": Available only in Japan (can be ordered by mail) and "Tamaish renge" spoon: available at Tas-ka in The Hague, Netherlands.
---
Season's Greeting
6 January 2015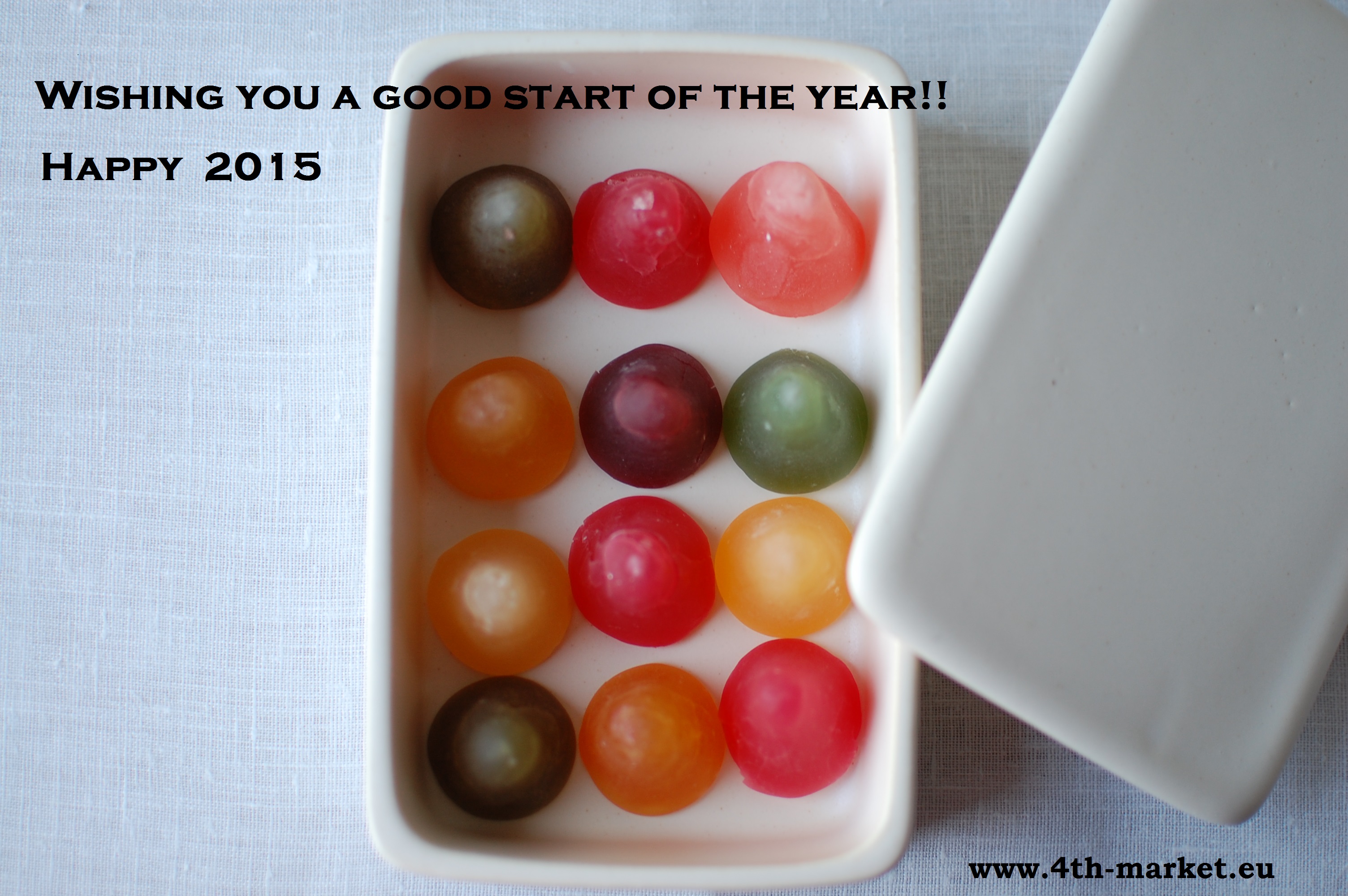 ---
Season's Greeting
24 December 2014
Many thanks to the people who love our products.
This year was very special for us because we started our sales in Europe.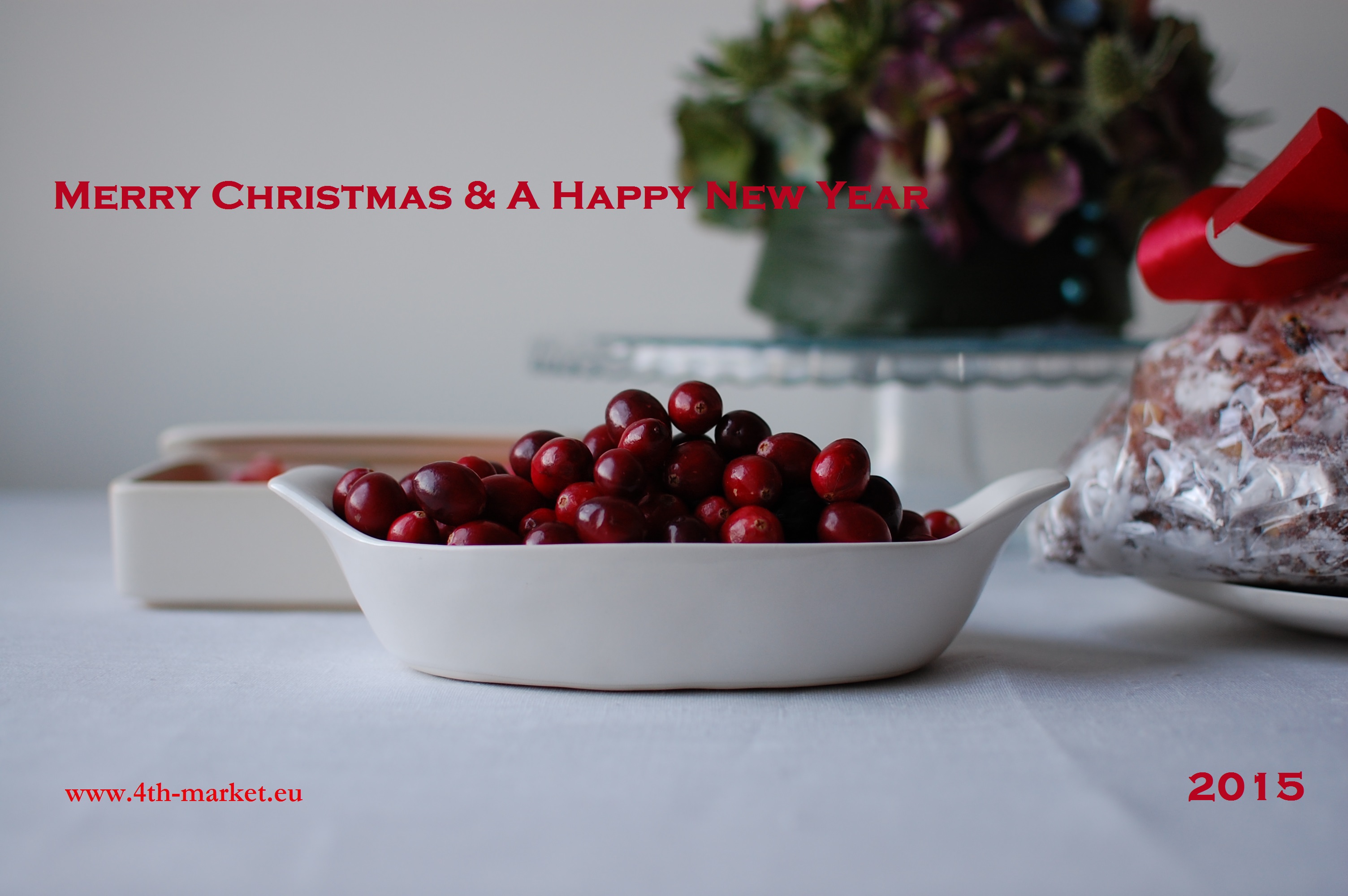 ---
A letter from Japan
24 December 2014
Merry Christmas from Japan!!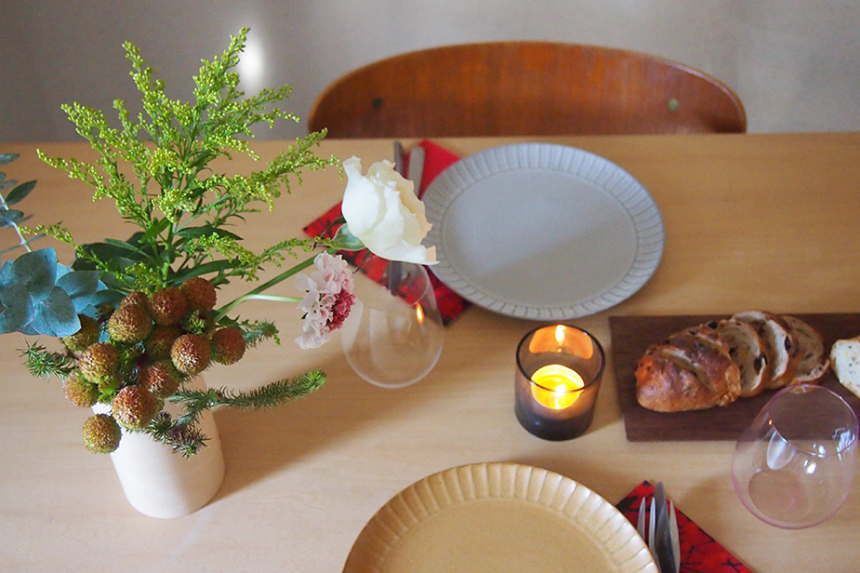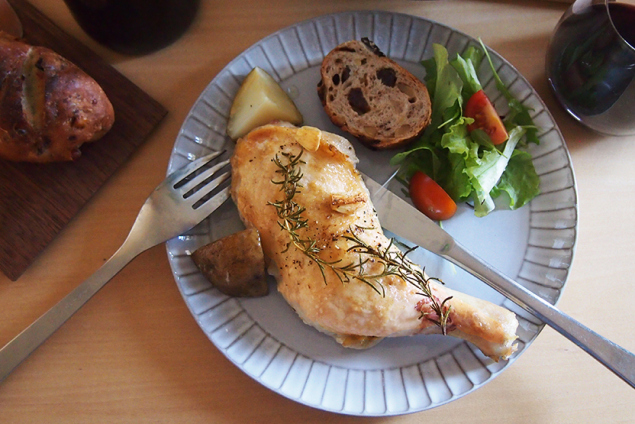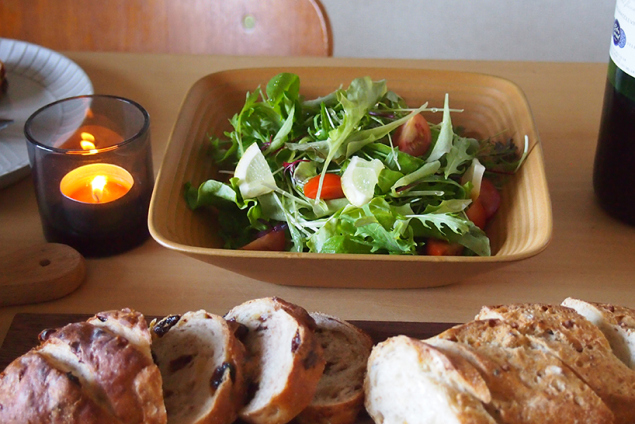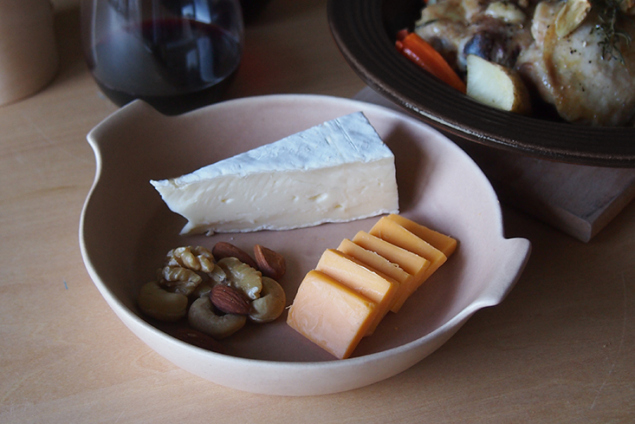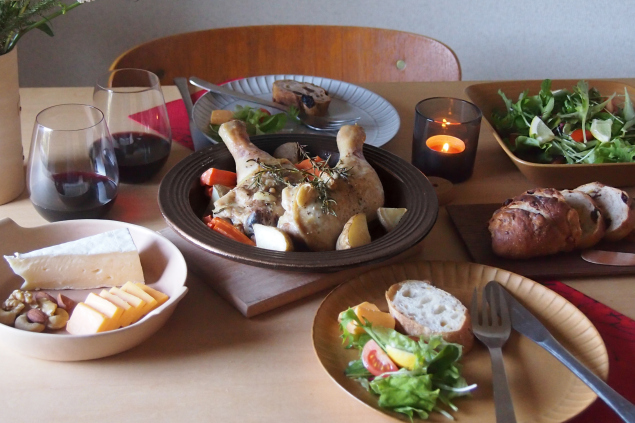 ---
From now we are sharing 4th-market's Japanese blog on our web site. 
A letter from Japan
11 December 2014
http://4thmarket.wordpress.com/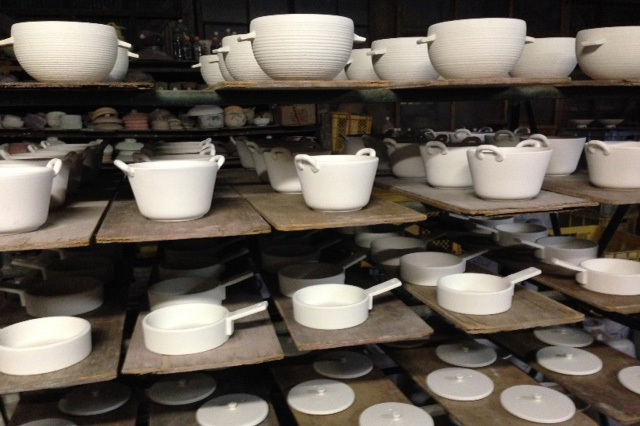 December is the busiest time of year for 4th-markets kilns.
Today's photos are an impression of the workspace of one of 4th-market studio's that produces the "poi-ret" and "stack" series.
On the pictures you can see the pottery dry on wooden racks, right after they had their first baking and are covered with glaze. Once dry they will go back into the kiln for final baking.  It's a typical day to day sight of the studio work floor, showing pottery being created with passion and craftsmanship.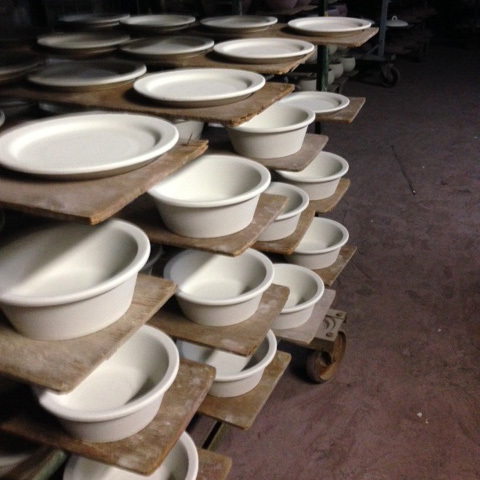 ---
4th-market/earthenware pan/recipe
                                                                                                                        8 December 2014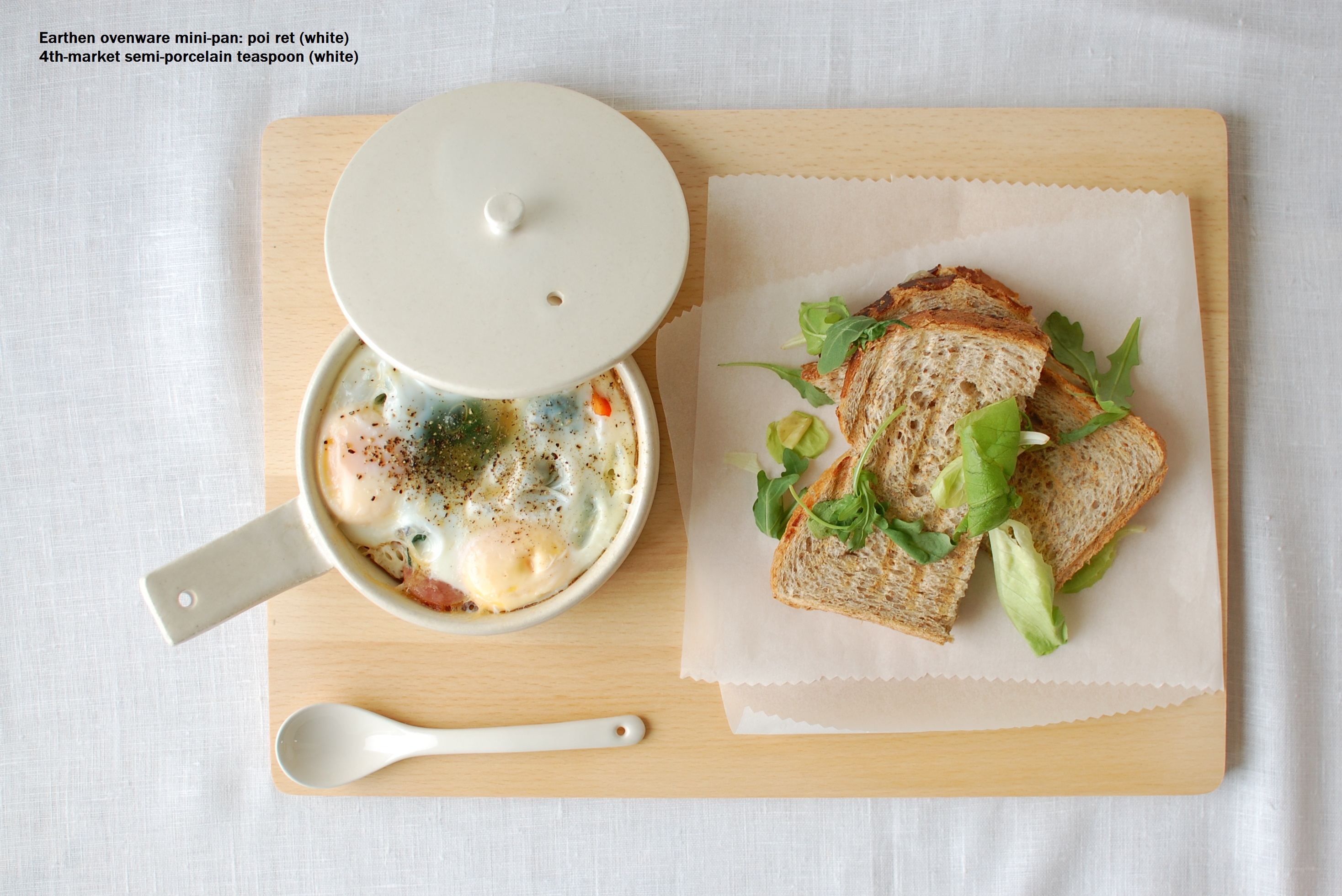 It's getting winter holiday season again and day light is getting shorter.
Time to enjoy a nice and cozy time at home.
4th-market's table & cookware give an extra essence on your table.
This is a very nice and simple idea using a small heatproof earthenware pan to prepare a great weekend brunch.
Heat oil in the mini pan. Add your favorite vegetables and maybe a slice of bacon. Sauté until they cooked.
Add egg and let it cook with cover for 3~5 minutes over low heat.
Adjust the taste by adding seasoning and freshly grind salt and pepper.
Serve with sandwich (toast / croque-monsieur)!!
Enjoy!!
---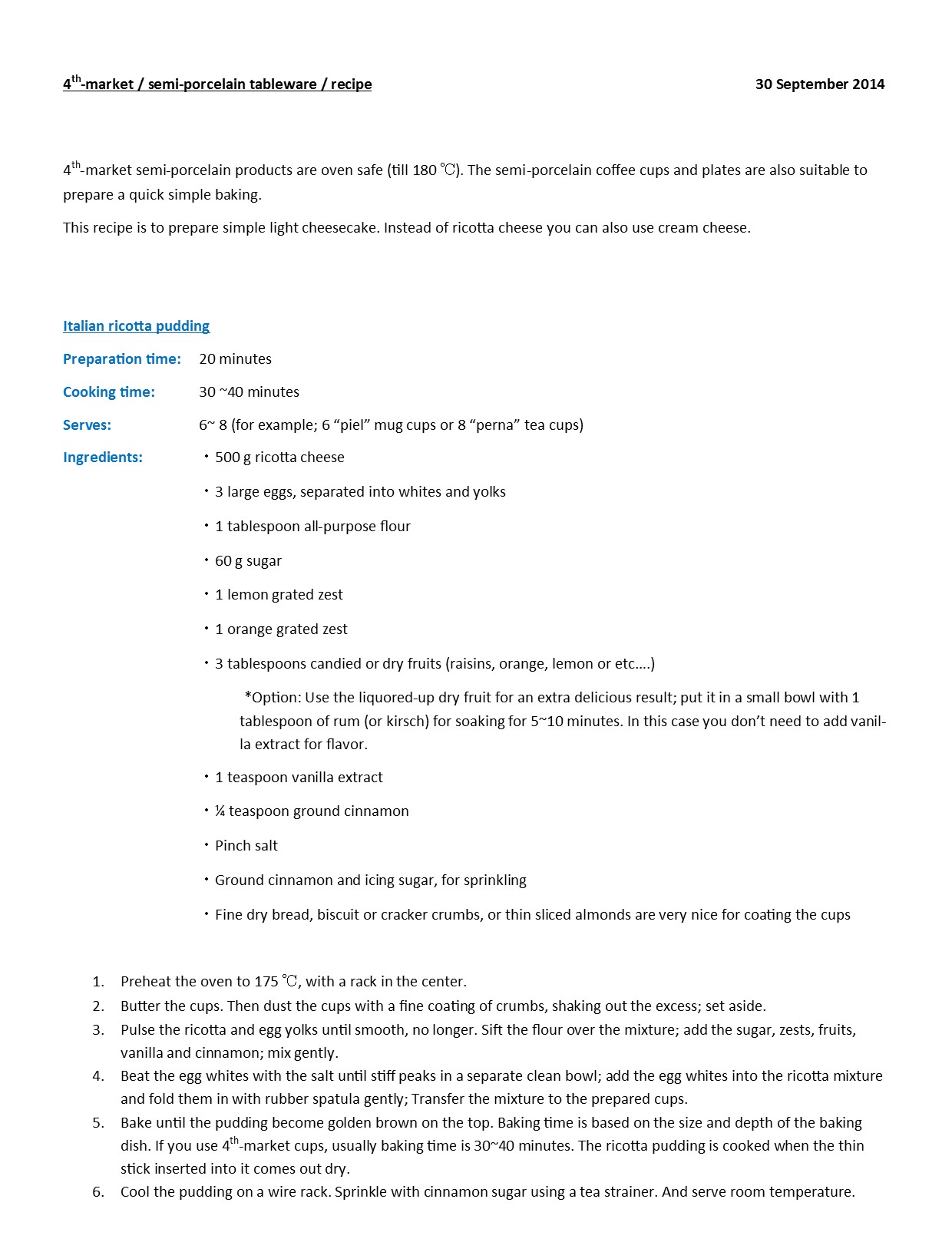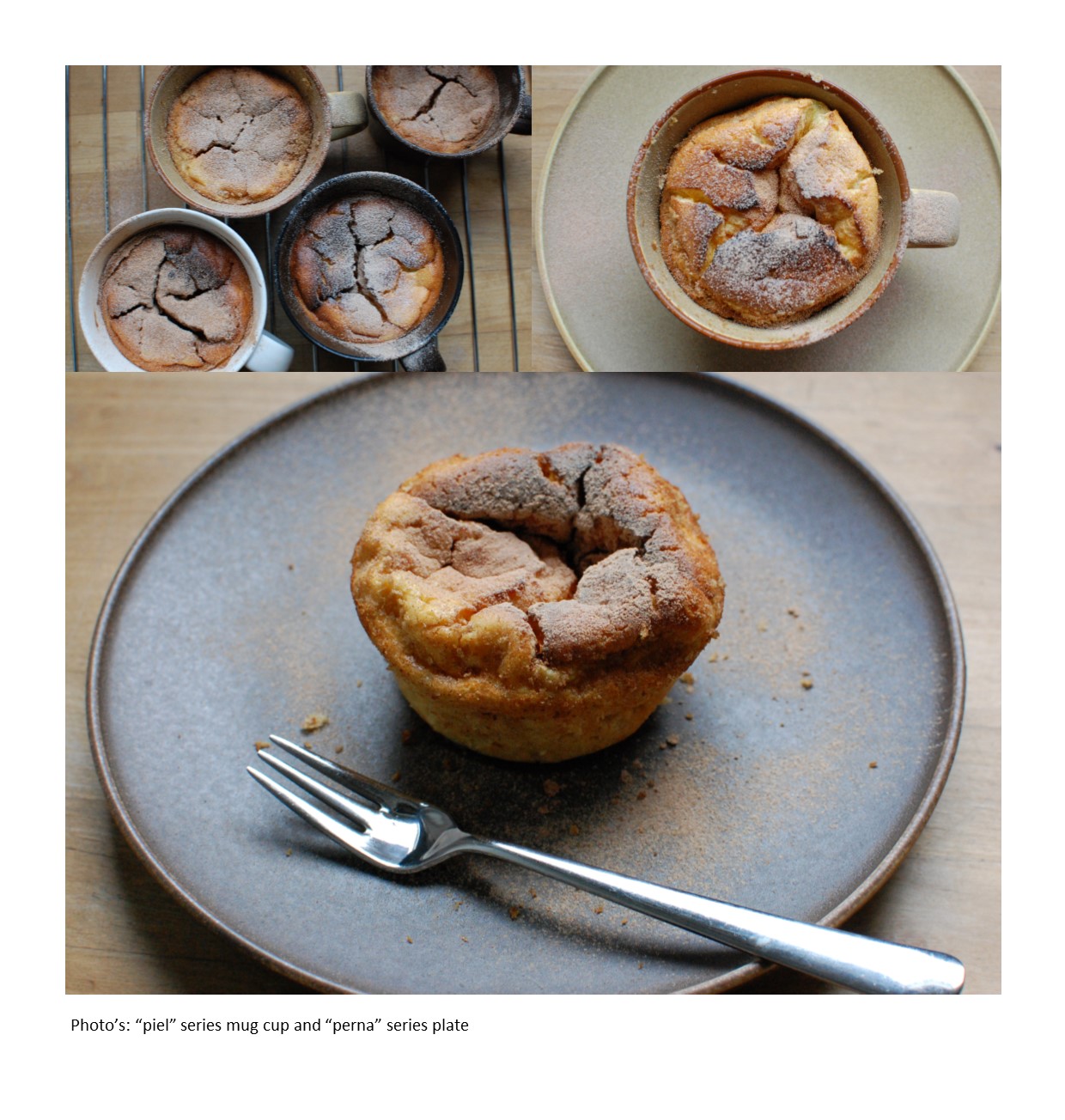 ---
30 June 2014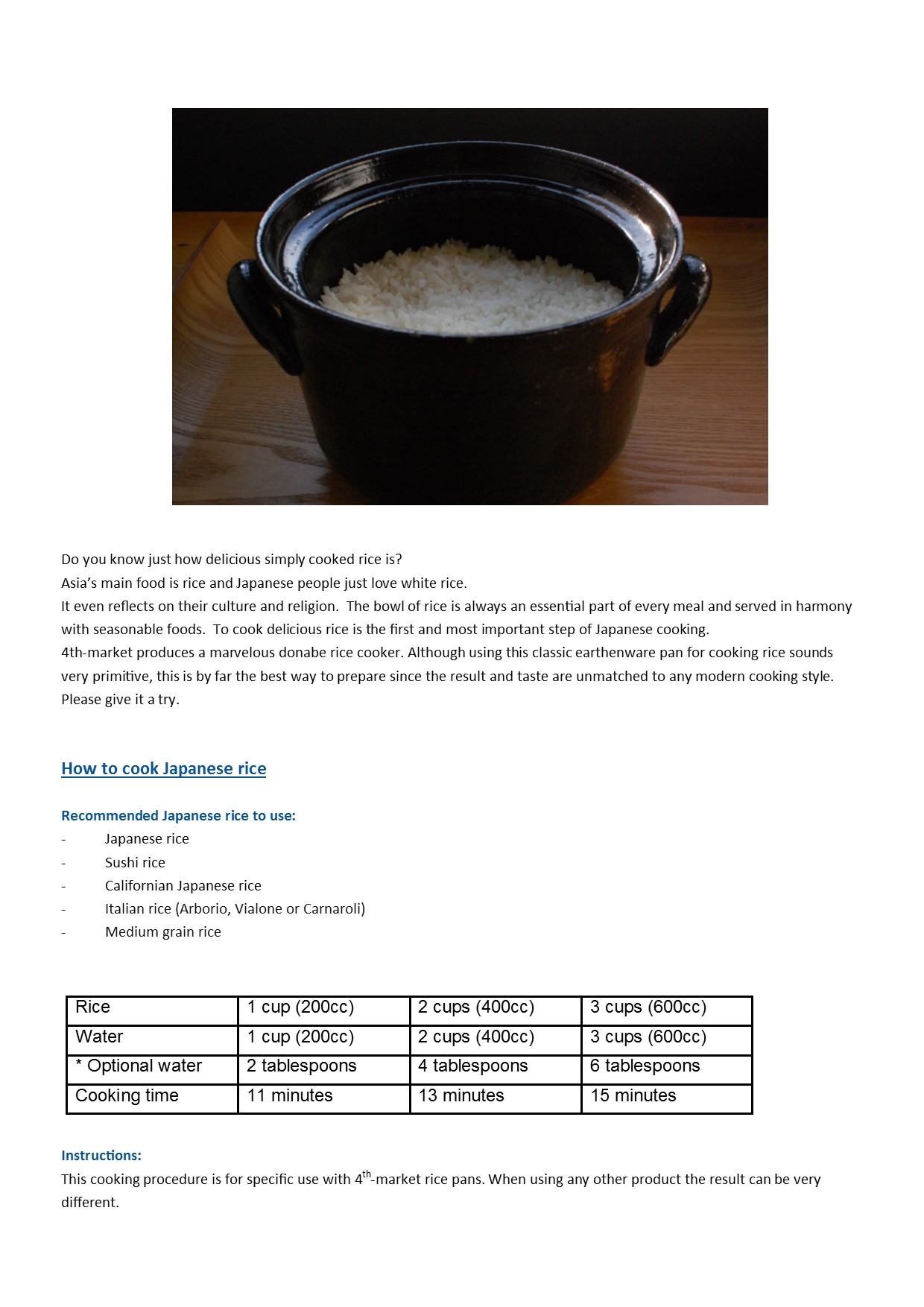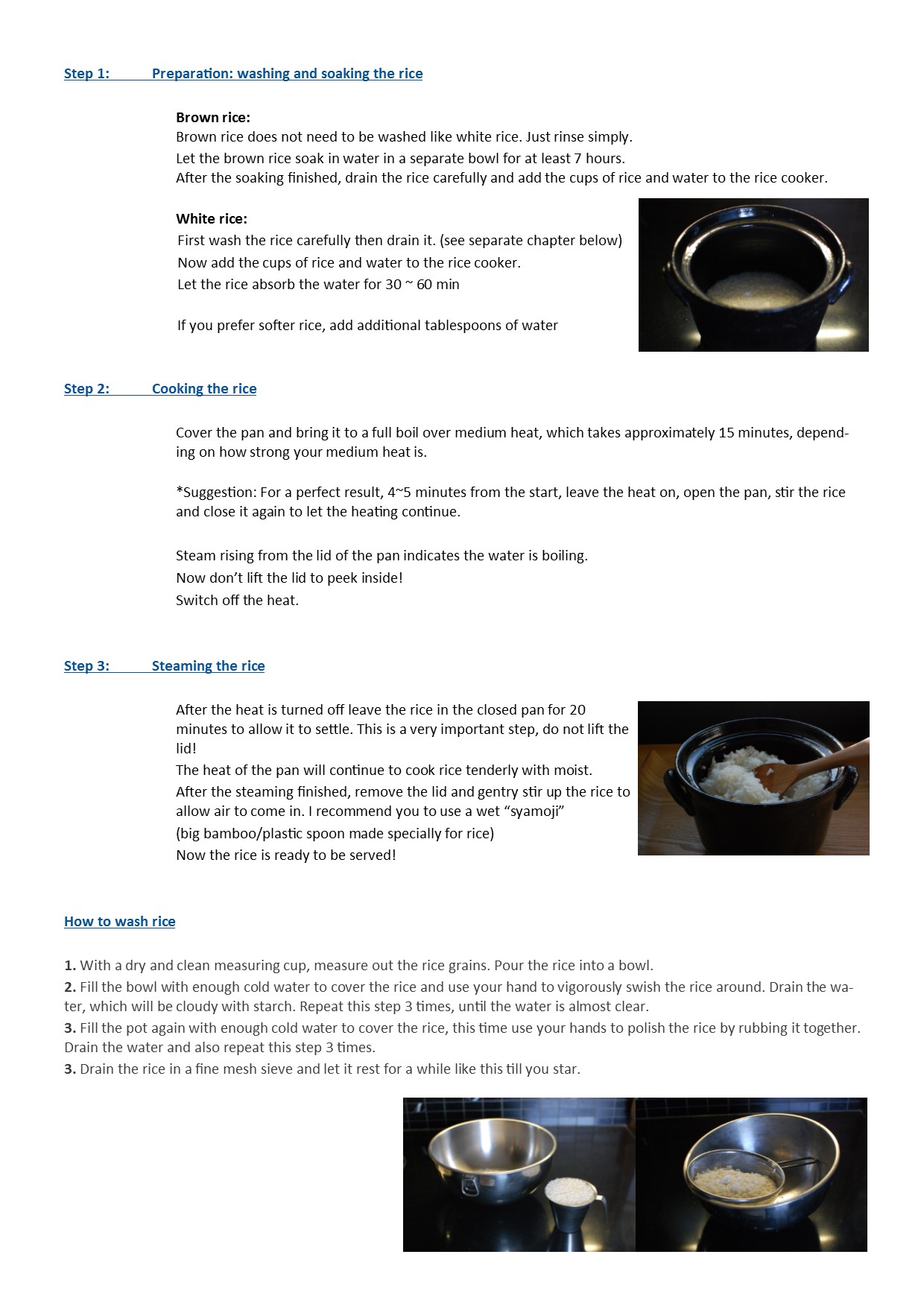 ---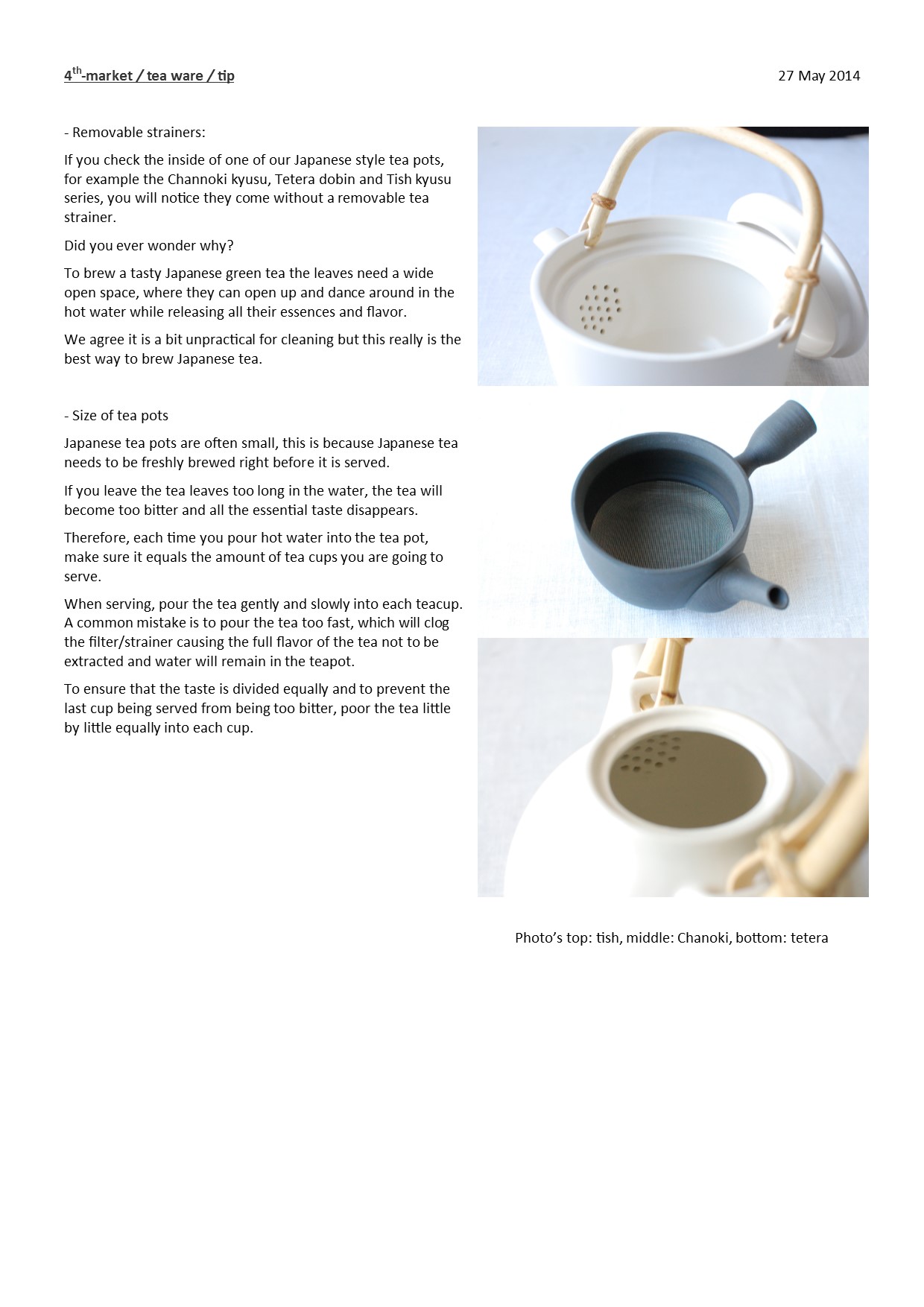 ---